How Bad Rails Conventions Got Me a Weekend Stay with the CEO of Airbnb
A weekend at Brian Chesky's.
If Brian Chesky, cofounder and CEO at Airbnb, listened to his mom, Airbnb wouldn't exist today. Or at least according to her:
"I told him it's a bad idea. I didn't think it was going to work, and I didn't really understand it. If he listened to me, Airbnb wouldn't be here now."
I asked his dad the same question, "When did you take Airbnb seriously?"
"Brian had one of those cash register 'CHA-CHINGS!' noises that would go off when a booking happened. It felt like I remember it just constantly going 'CHA CHING, CHA CHING, CHA CHING,' and I thought, 'Wow, this is working.'"
This is a familiar pattern for those building giant companies. The world – including your supportive parents – won't take even the best startup seriously for a while.
Before sharing a few more observations gleaned from spending a weekend with Brian, here's how I got there in the first place.
---
On November 16, 2022, Airbnb cofounder and CEO, Brian Chesky, shared that he's welcoming guests from anywhere to stay with him at his place in San Francisco:
It's wild (vulnerable, transparent, kind, generous, and humbling) for the CEO of a $60B company to welcome complete strangers into his home to host them – including cooking together and showing them the city – for a weekend.
I left that January 2023 weekend with a renewed appreciation for how small the world is and fresh examples of a founder at work.
How I Found and Booked Brian's Listing
Brian anticipates hosting a number of strangers throughout the year. My significant other, Katie, and I were the first lucky guests that stayed with Brian.
But there is one trick that aided being lucky.
I remembered Airbnb was founded in 2008 and one of the very first breakout startups to be built on Ruby on Rails. If you recall, Rails does not – by default – use random record IDs, including for things like user IDs, unless there's an explicit design choice to do so. For new record IDs created in the database, they're sequential (n+1) starting from 1.
That means if you want to locate a specific Airbnb profile, you could go to your own profile page (the URL will look something like https://www.airbnb.com/users/show/30193185), and swap the user ID (30193185) for another user ID. Once you've located a user profile, you can see the affiliated listings with that user.
Incidentally, the cofounders of Airbnb are UIDs 1 (Nate), 2 (Joe), and 3 (Brian). I saw Brian's first tweet shortly after he posted (lucky). Once I located Brian's profile, his listing was linked. I was shocked to see availability in January, and I requested to book the open weekend.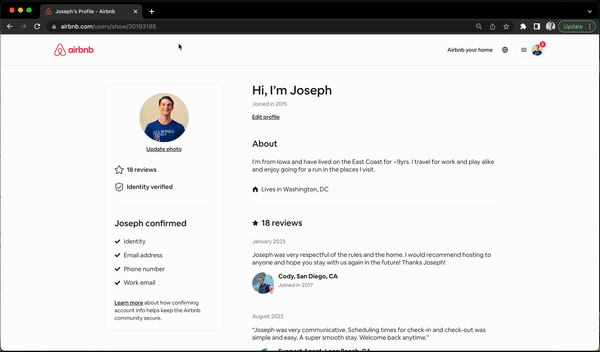 (Even more lucky? Katie and I already had plans to do a California road trip from San Diego to SF in January.)
My 'hack' is no longer necessary as Brian tweeted a direct link to the listing 15 hours after his first announcement. As you'll guess, by then, the open weekends were already booked. (Brian plans to add more weekends throughout the year.)
Inside "11 Star" Hospitality
Airbnb prides itself on striving to offer products that are the "11 Star" experience – an extrapolation for pushing the boundaries on a Five Star travel experience. That aim started in advance of my significant other, Katie, and I arriving at Brian's. We had plans to cook mussels at his place on Friday night, and Brian insisted on stocking the fridge with the ingredients we'd need before our arrival.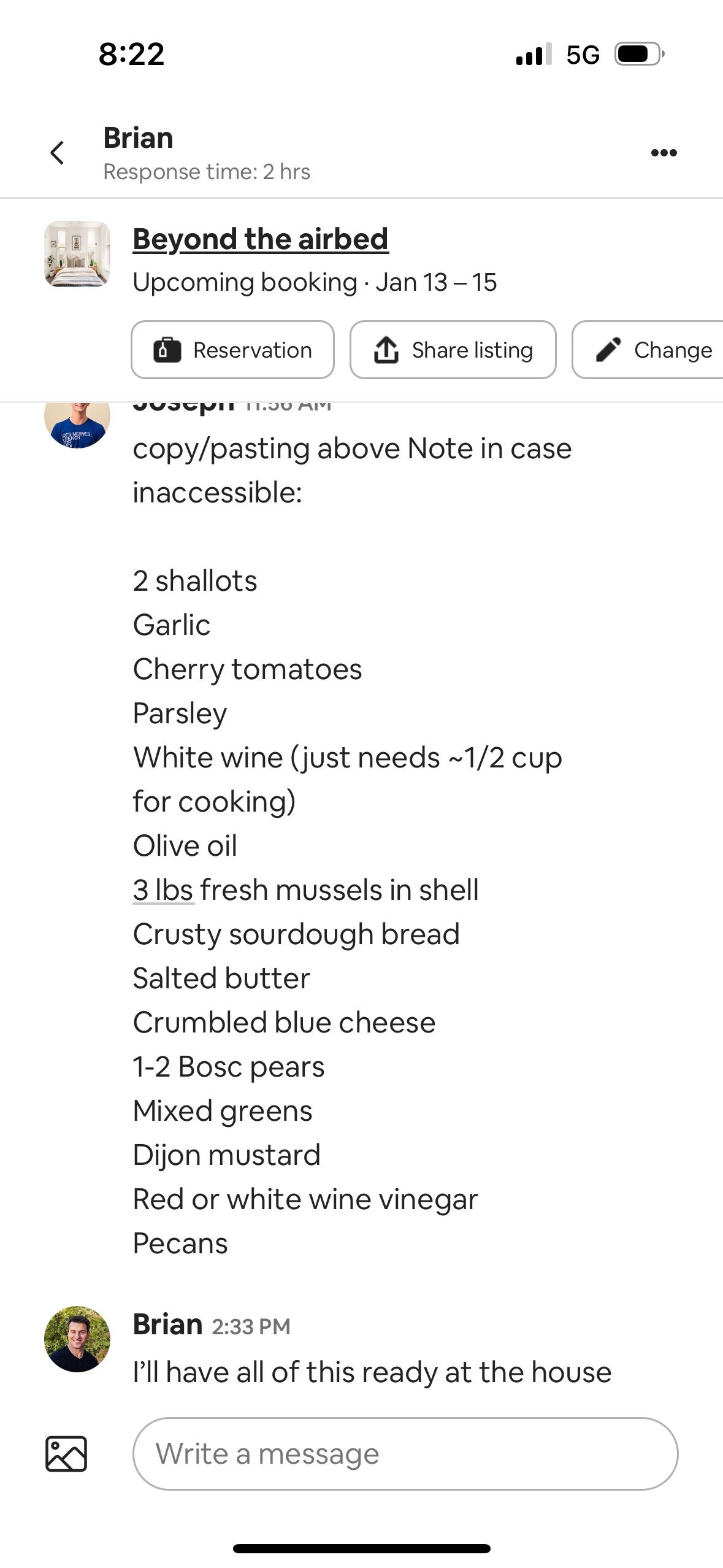 Upon arriving on Friday (and me fumbling the door access code), Brian greeted us, showed us to our room on the floor above his, gave background on the art he's created throughout his home, and shared his motivations for wanting to host again – 15 years after the first airbed and breakfast ("Sure, it's a 'gimmick,' but I'm also actually doing it"). We cooked our mussels while Brian joined us in the kitchen baking "Chesky's Chips," his "family cookie recipe passed down from Google." We dined along side Sandy and Sophie (two golden retrievers) and discussed technology, Airbnb's future, medicine, Jony Ive's impact on Apple and Airbnb, CEO responsibility in startup stages, Bob Iger's return to Disney, implications of social media, and more til midnight on Friday. Brian was especially curious about how early stage YC companies are organizing in an era of distributed work.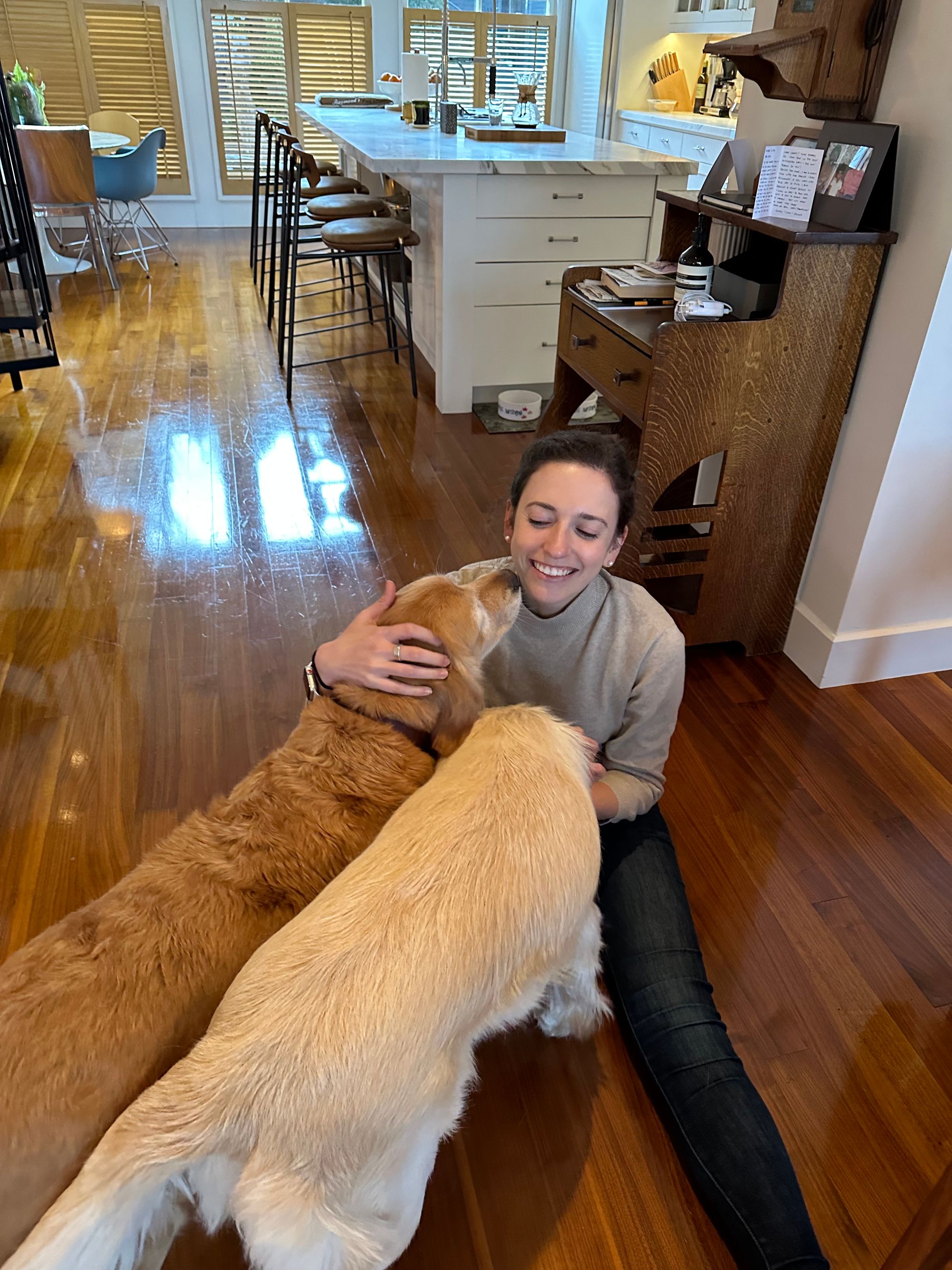 On Saturday, after Sophie jumped into our bed to greet us in the morning, Katie and I embarked to explore the city including visiting Pixar in Emeryville. While Brian offered help with recommendations and dinner, we had most of our plans set in advance. On that rainy day, we did take him up on a CEO-guided tour of Airbnb's offices (with Sandy and Sophie), which revealed a few hilarious, nostalgic moments in company history.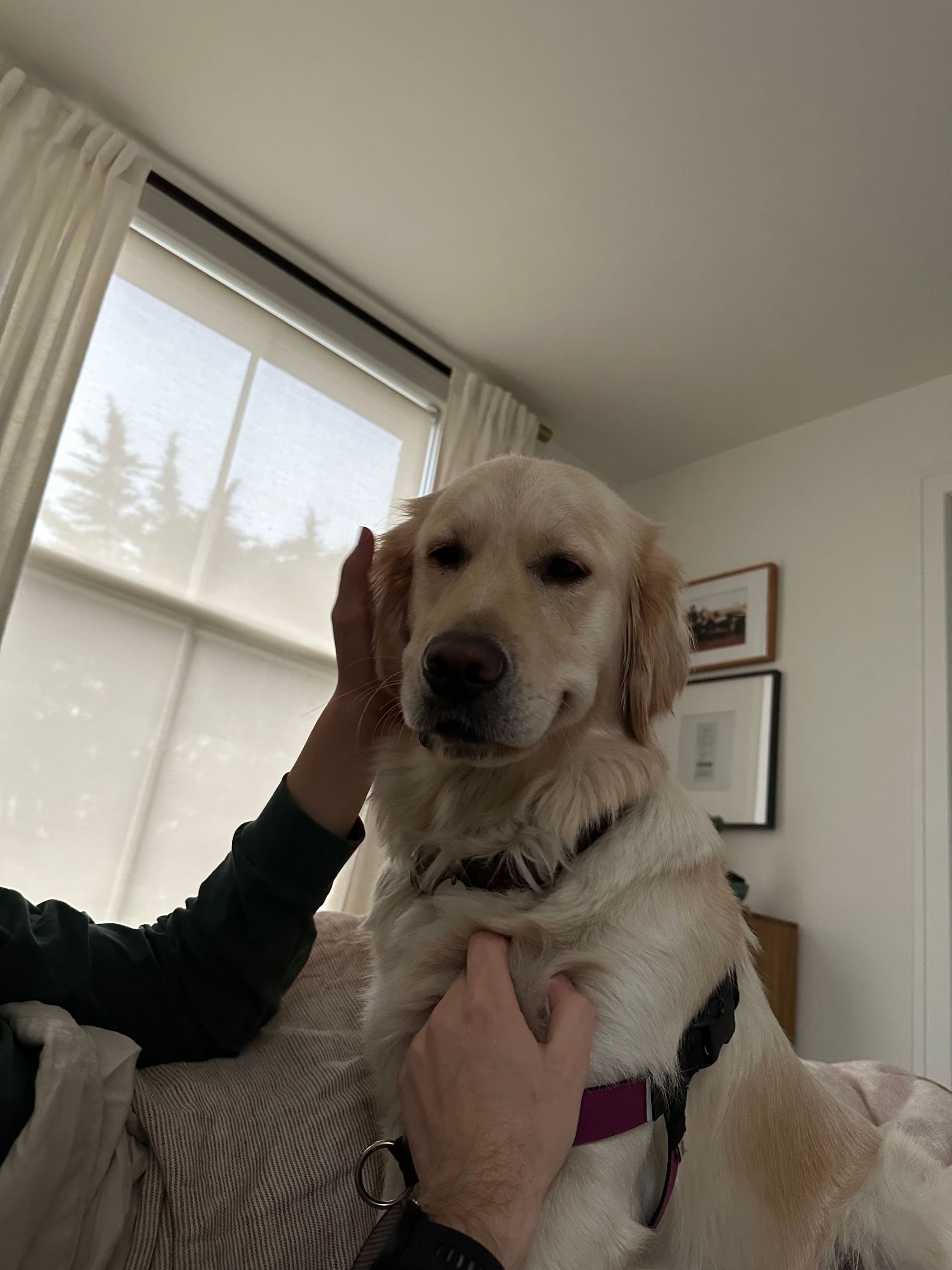 While we formally checked out of Brian's place Sunday morning, we requested leaving our bags there while exploring Muir Woods and Mt. Tamalpais. When we returned to Brian's Sunday evening to pick up our bags, his parents were there while Brian was at the gym. They were inquisitive ("Where are you from?" "Did you win a contest?" "I could tell you were a hockey goalie!"). This unearthed how small the world is (more below). We signed the guest book and departed.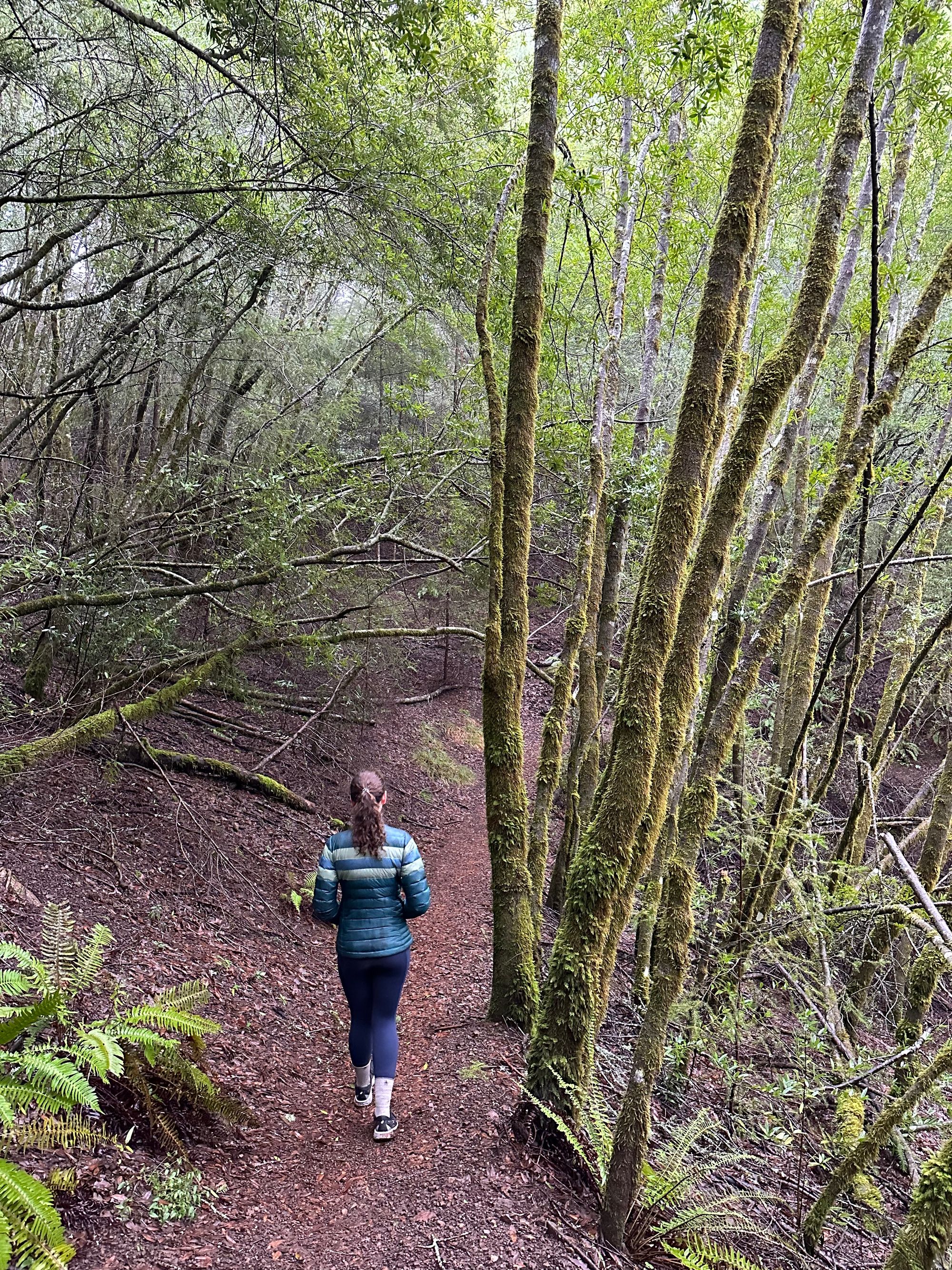 Notes to Self: Observations from a Founder at Work
As a startup CEO of a company much earlier than Brian's – yet with plans to eclipse the success of Airbnb – many of the notes captured here relate to company building. No single observation is groundbreaking, though seeing common startup advice reinforced by a successful publicly traded CEO is a worthy reminder (kind of like "Founders at Work").
It's (still) all about your users and customers
Brian volunteering to host and entertain total strangers represents the importance of placing your customer front-and-center at every company stage. Brian could be "beyond that." He's not. He wants to see the details of what being a host is like so he can improve his product.
This was also clear in Airbnb's office itself. Meeting rooms are themed from host listings. Hosts' stories are emblazoned on the walls. The first Airbnb Experiences are posters. The office is a physical, unambiguous dedication to the company's customers.
Internal motivation trumps external validation
Like I noted at the top of this post, one of the first questions I asked Brian's parents was, "When did you take Airbnb seriously?" They weren't bullish when their son moved to an expensive city, forfeited his employer health benefits, and began offering blow up air mattresses for strangers.
While it took them later than Y Combinator to identify the potential for its outsized success, they exuded appropriate pride in their son's work. But they haven't let it get to them too much. His mom has yet to retire.
(And for the record, my mom called Roboflow, my company, "your project" until we had ~50k users and raised a $20M Series A. I still like to frame it as a project, though: it invites sorting out rough edges.)
It's a small, connected world
Brian grew up playing hockey in upstate New York. On his youth hockey team, he played with someone named Andrew Leach. Andrew's dad was even the coach of their team. When it came time to go to university or pursue hockey, Brian opted to attend RISD. Andrew pursued hockey.
My family hosted players for the Des Moines Buccaneers, a hockey team where players aged 20 and under hail from across the country in hopes of being scouted by a D1 NCAA program. Players stay with families like ours for the duration of a season like a temporary brother.
Andrew Leach ended up playing for the Des Moines Buccaneers. His housing family? Mine (the Nelsons).
My family in Iowa hosted Brian's New York youth hockey teammate for two years.
Brian's parents were elated to discover this anecdote, and I messaged Andrew a warm hello from them. Andrew was pleased to hear the Cheskys continue to hold his dad's coaching in high esteem.
Being in the weeds matters
Brian remarked that while there's temptation to feel beyond given responsibility inside your company, the best entrepreneurs continue to be in the weeds. "Otherwise, you come back, and it's like overturning a rock." Brian felt as though he has a handle on what each of the 5,000 employees at Airbnb do. He even remarked another prominent Silicon Valley CEO has 50 (!) 1:1s per week. Brian's focus on being deeply involved ensures founder DNA – in his case, a focus on thoughtful design – continues to be embedded throughout the company.
This also applies when you're working with a leader on a decision for compromise – or lack thereof. Ultimately, the founder/CEO will need to live with every decision indefinitely. Contrary to the adage of being a bottleneck, Brian also noted that he feels projects with his involvement can move faster as teams are motivated to do great work with the CEO. (This strikes me as applicable to any great leader in a company: they roll up their sleeves and sweat the details.)
How to punch above your weight in recruiting talent
Companies at every stage need to consistently recruit talent beyond the stage of their company, and those leaders pull the company to grow into their capability. This is true for startups and scaled businesses alike. Hiring an accomplished leader to build a new muscle in an organization requires convincing talent to your fledgling business instead of joining a status quo market leader.
Brian has a strong track record in attracting top talent. He works closely with Jony Ive, who designed every Apple product you use today, as well as Jay Carney (Obama's Press Secretary / Airbnb Head of Policy and Comms), who "could do his work for a business ten times our size." Brian felt recruiting comes down to painting a vision in three key areas:
a leader will be able to own – not inherit – the area that plays to their core strength
the upside of what remains at Airbnb is still outsized
leaders find that they are able to do the best work of their careers alongside him.
Of these, (3) strikes me as underrepresented in recruiting.
It's passion + focus from here on out
Airbnb lost 80% of its business in eight weeks during the pandemic. Going out of business was a real possibility: "We didn't know how low the plane would go." That shock created a forcing function for Airbnb to narrow in on what they, uniquely, do well, which required saying 'No' to many promising endeavors (like pausing Airbnb Magazine or de-prioritizing Experiences).
It also reinvigorated the company. Like an early stage startup being faced with the end of its runway, the pandemic forced Airbnb to focus on solving its core needs, quickly.
Also, Brian worked most of the weekend that we were in his home. Hard work is always in style.
Visionaries create and dominate bigger markets
Airbnb could enter many logical, adjacent markets – and likely do very well in them. Conceivably, every category of service Expedia offers (car rental, flights) could be business lines Airbnb could launch, monetize, and do so successfully. And I'd wager a non-founder CEO replacing Brian would go all-in on taking marketshare from other travel categories.
But that's not where his focus is. Brian's focus is not – and never was – "make an incredible travel service." It's creating a way to connect people.
It's not clear what market creating human connection maps to, and that's kind of the point. There's value in fostering relationships, and multiple ways to monetize doing so. After all, Airbnb's original promise – to connect people [for homesharing] – created and dominated a new type of hospitality. (The philosophy is reminiscent of the "Competition is for losers" mantra: you can most easily win games where you are defining their rules.)
It's notable to see emphasis on new category creation even with a $2B/yr free cashflow business in a now established category. And this is an inkling into how Airbnb sees itself 10x-ing again.
---
I'm appreciative of Brian – and his parents and pets – for hosting us this last weekend. Katie and I had a wonderful time.